BORE UP TAC Receiver / For Tokyo Marui VSR-10
¥11,502
《SPEC》
■Usable gun:Tokyo Marui VSR-10 series(If the receiver is replaced, the cylinder parts, handles, end caps, new triggers, etc. must be exclusive to the BORE UP receiver.)
■Material:Duralumin
■surface treatment:Black Alumite
在庫1個
説明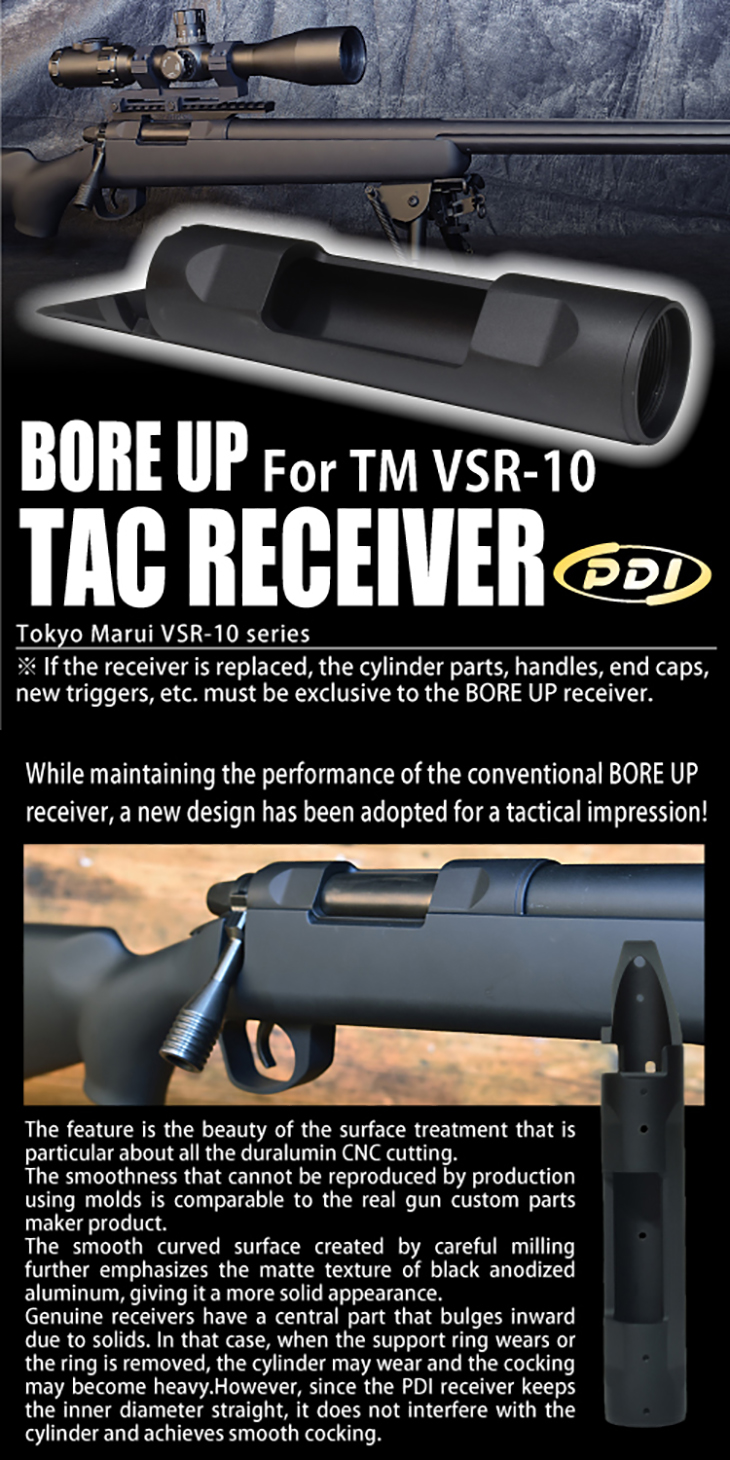 《product description》
New design of BURE UP receiver!
While maintaining the performance of the conventional BORE UP receiver, a new design has been adopted for a tactical impression! In addition, we are also reducing the weight.
The feature is the beauty of the surface treatment that is particular about all the duralumin CNC cutting.
The smoothness that cannot be reproduced by production using molds is comparable to the real gun custom parts maker product.
The smooth curved surface created by careful milling further emphasizes the matte texture of black anodized aluminum, giving it a more solid appearance.
Genuine receivers have a central part that bulges inward due to solids. In that case, when the support ring wears or the ring is removed, the cylinder may wear and the cocking may become heavy.
However, since the PDI receiver keeps the inner diameter straight, it does not interfere with the cylinder and achieves smooth cocking.
※The support ring cannot be used with PDI. Cylinder rubbing will occur, but this will not affect actual shooting. It's almost as perceptible as an APS or other bolt-action rifle.
※If it doesn't fit the outer barrel, try rubbing the "small hole" on the outer barrel thread with a stick file.
※Be careful not to overtighten the screws when mounting the mount base. If you apply the wrong force, the screws on the receiver side may be damaged.
《SPEC》
■Usable gun:Tokyo Marui VSR-10 series(If the receiver is replaced, the cylinder parts, handles, end caps, new triggers, etc. must be exclusive to the BORE UP receiver.)
■Material:Duralumin
■surface treatment:Black Alumite