Bull Barrel Cap / For Tokyo Marui VSR-10 G-Spec,L96AWS
¥1,882
《SPEC》
■Usable gun:Tokyo Marui VSR-10 G-Spec,L96AWS,PDI Light Outer Barrel,Front Bull Barrel
■Material:Duralumin
■Surface treatment:Black Alumite
1 in stock
Description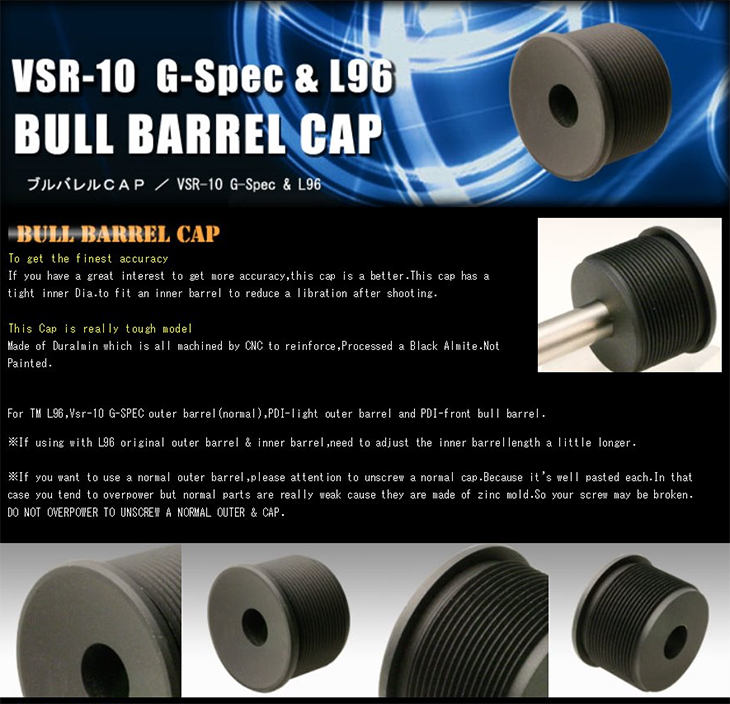 《product description》
To get the finest accuracy.
If you have a great interest to get more accuracy,this cap is a better.This cap has a tight inner Dia.to fit an inner barrel to reduce a libration after shooting.
This Cap is really tough model.
Made of Duralmin which is all machined by CNC to reinforce,Processed a Black Almite.Not Painted.
For TM L96,Vsr-10 G-SPEC outer barrel(normal),PDI-light outer barrel and PDI-front bull barrel.
※If using with L96 original outer barrel & inner barrel,need to adjust the inner barrellength a little longer.
※If you want to use a normal outer barrel,please attention to unscrew a normal cap.Because it's well pasted each.In that case you tend to overpower but normal parts are really weak cause they are made of zinc mold.So your screw may be broken.
Do not overpower to unscrew a normal outer & cap.
《SPEC》
■Usable gun:Tokyo Marui VSR-10 G-Spec,L96AWS,PDI Light Outer Barrel,Front Bull Barrel
■Material:Duralumin
■Surface treatment:Black Alumite