L96AWS SILENT COMPLETE RIFLE
¥98,313
《SPEC》
Special outer barrel with built-in suppressor
05Inner barrel 380mm
New Trigger
Precision Cylinder
Piston VC
Spring Guide
Taper Cylinder Head
Variable Pitch Spring
Barrel Spacer / For Light Outer Barrel
Bull Barrel Cap
Light Outer Barrel
Receiver + Ring Set
CS Handle
End Screw
■Power:Output is around 0.9J
Out of stock
Description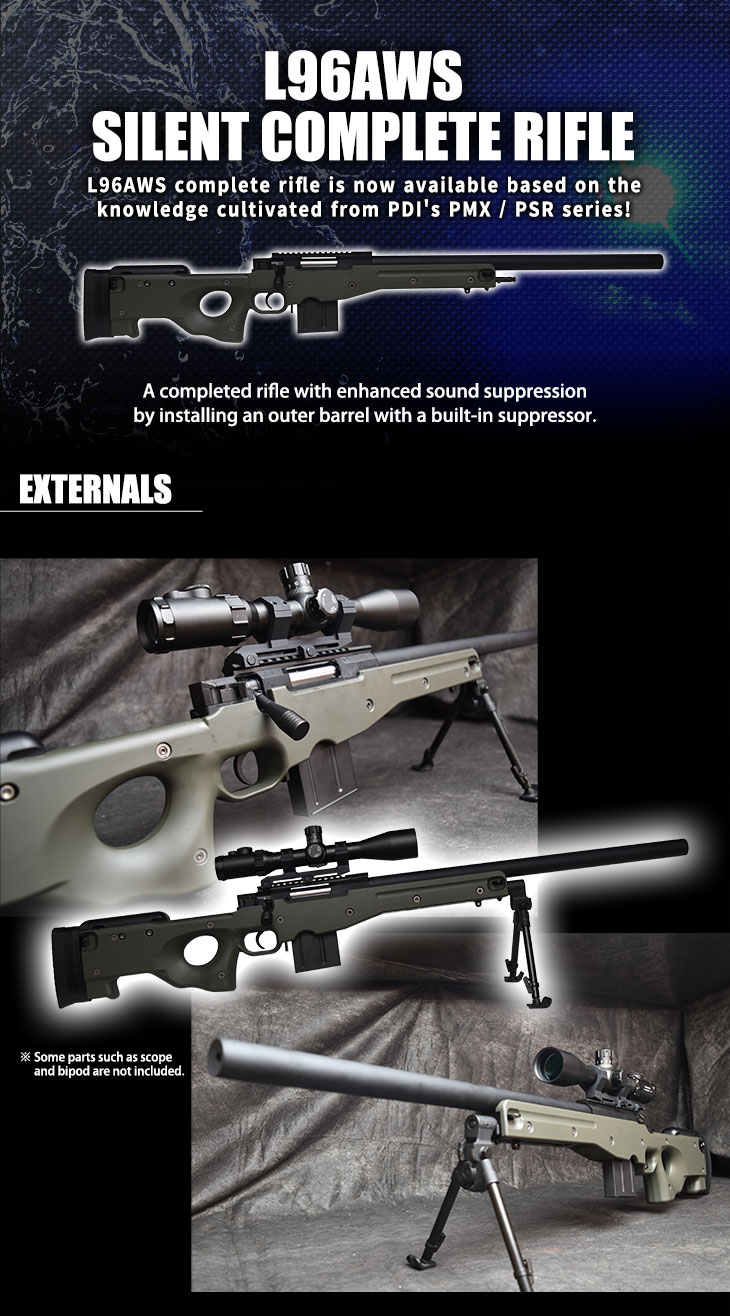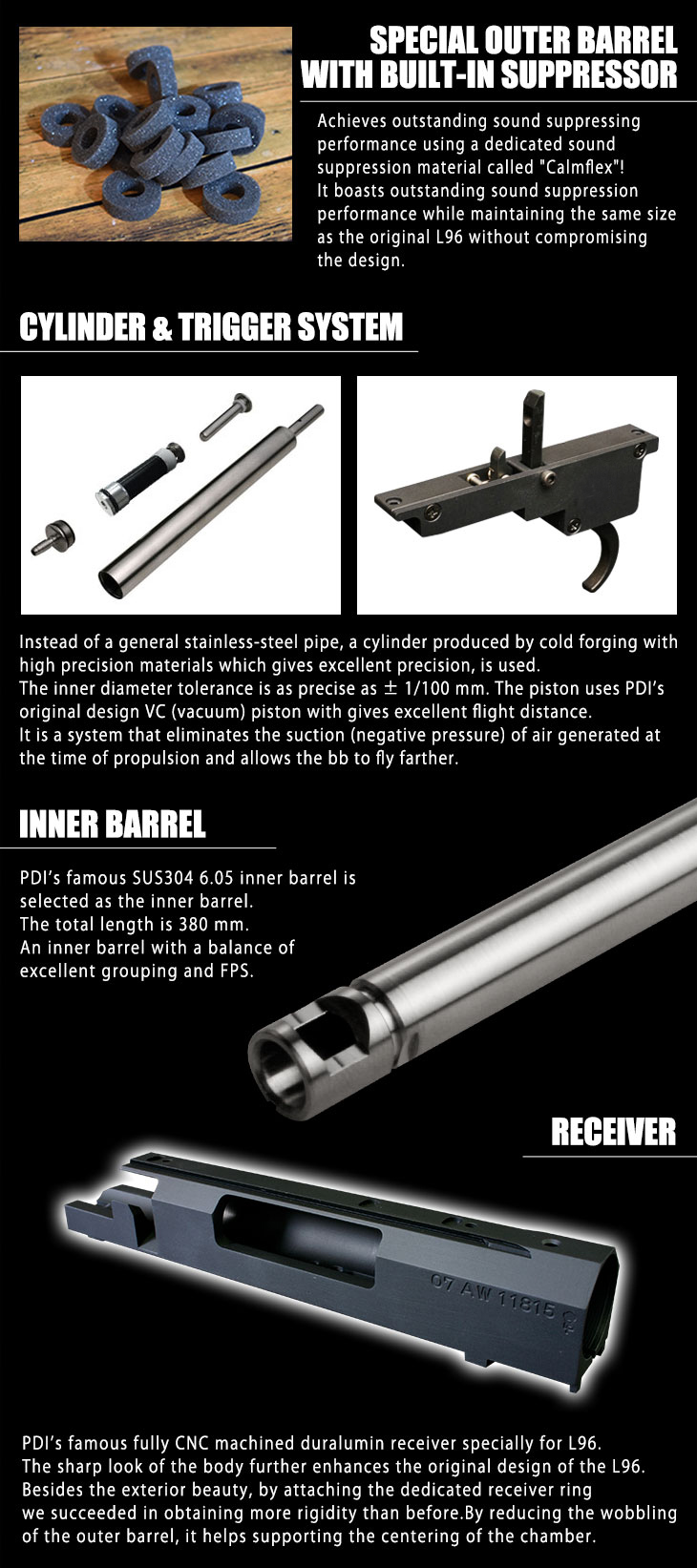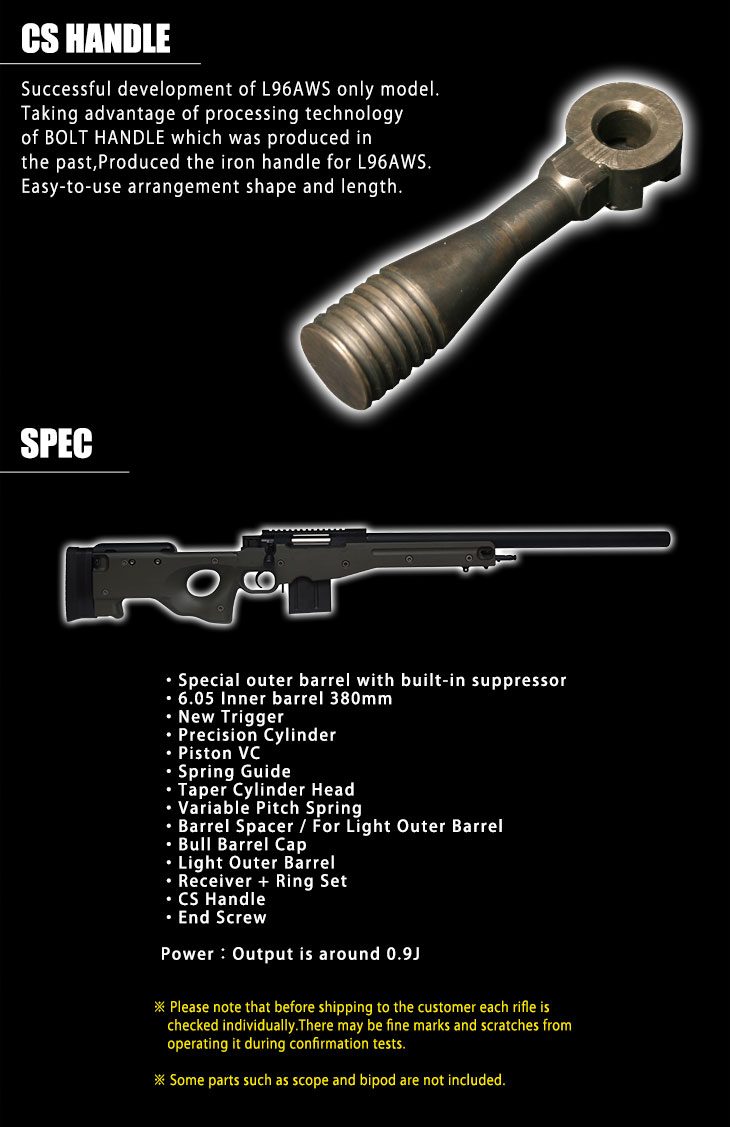 《product description》
L96AWS complete rifle is now available based on the knowledge cultivated from PDI's PMX / PSR series!
A completed rifle with enhanced sound suppression by installing an outer barrel with a built-in suppressor.
【Special outer barrel with built-in suppressor】
Achieves outstanding sound suppressing performance using a dedicated sound suppression material called "Calmflex"!
It boasts outstanding sound suppression performance while maintaining the same size as the original L96 without compromising the design.
【Cylinder & Trigger System】
Instead of a general stainless-steel pipe, a cylinder produced by cold forging with high precision materials which gives excellent precision, is used.
The inner diameter tolerance is as precise as ± 1/100 mm. The piston uses PDI's original design VC (vacuum) piston with gives excellent flight distance.
It is a system that eliminates the suction (negative pressure) of air generated at the time of propulsion and allows the bb to fly farther.
【Inner barrel】
PDI's famous SUS304 6.05 inner barrel is selected as the inner barrel. The total length is 380 mm. An inner barrel with a balance of excellent grouping and FPS.
【Receiver】
PDI's famous fully CNC machined Aluminum alloy receiver specially for L96. The sharp look of the body further enhances the original design of the L96.
Besides the exterior beauty, by attaching the dedicated receiver ring we succeeded in obtaining more rigidity than before. By reducing the wobbling of the outer barrel, it helps supporting the centering of the chamber.
【CS Handle】
Successful development of L96AWS only model.
Taking advantage of processing technology of BOLT HANDLE which was produced in the past,Produced the iron handle for L96AWS. Easy-to-use arrangement shape and length.
《SPEC》
Special outer barrel with built-in suppressor
05Inner barrel 380mm
New Trigger
Precision Cylinder
Piston VC
Spring Guide
Taper Cylinder Head
Variable Pitch Spring
Barrel Spacer / For Light Outer Barrel
Bull Barrel Cap
Light Outer Barrel
Receiver + Ring Set
CS Handle
End Screw
■Power:Output is around 0.9J
※Please note that before shipping to the customer each rifle is checked individually.
There may be fine marks and scratches from operating it during confirmation tests.
※Some parts such as scope and bipod are not included.