Palsonite Cylinder / For Tokyo Marui AEG , MP7A1, SCORPION , Mac10
¥1,540
《SPEC》
■Usable gun:Tokyo Marui AEG , MP7A1, SCORPION , Mac10
■Material:Stainless
■surface treatment:Palsonite
Description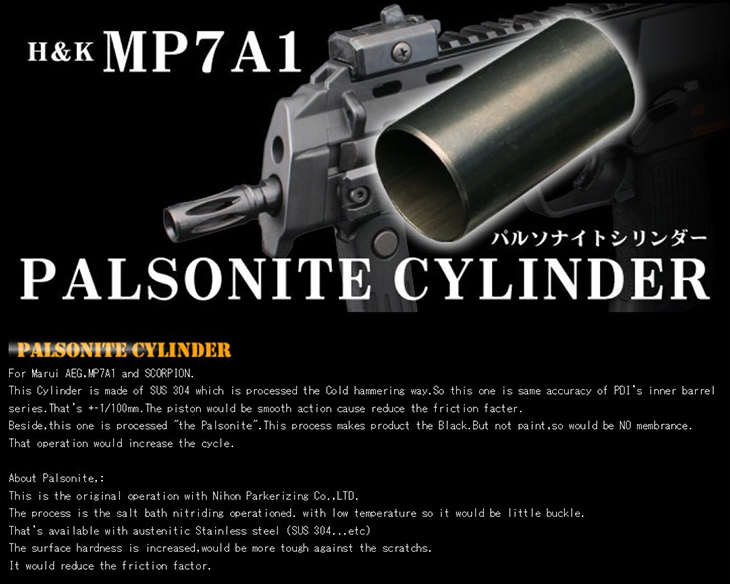 《product description》
For Marui AEG,MP7A1 and SCORPION.
This Cylinder is made of SUS 304 which is processed the Cold hammering way.So this one is same accuracy of PDI's inner barrel series.That's +-1/100mm.The piston would be smooth action cause reduce the friction facter.
Beside,this one is processed "the Palsonite".This process makes product the Black.But not paint,so would be NO membrance.
That operation would increase the cycle.
About Palsonite,:
This is the original operation with Nihon Parkerizing Co.,LTD.
The process is the salt bath nitriding operationed. with low temperature so it would be little buckle.
That's available with austenitic Stainless steel (SUS 304…etc)
The surface hardness is increased,would be more tough against the scratchs.
It would reduce the friction factor.
《SPEC》
■Usable gun:Tokyo Marui AEG , MP7A1, SCORPION , Mac10
■Material:Stainless
■surface treatment:Palsonite