Attachment for Original Silencer / For Tokyo Marui VSR-10 G-SPEC
¥2,395
《SPEC》
■Usable gun:Tokyo Marui VSR-10 G-SPEC, Tokyo Marui L96AWS, PDI Light Outer Barrel, PDI Front Bull Barrel
■Material:Duralumin
■Surface treatment:Black Alumite
Description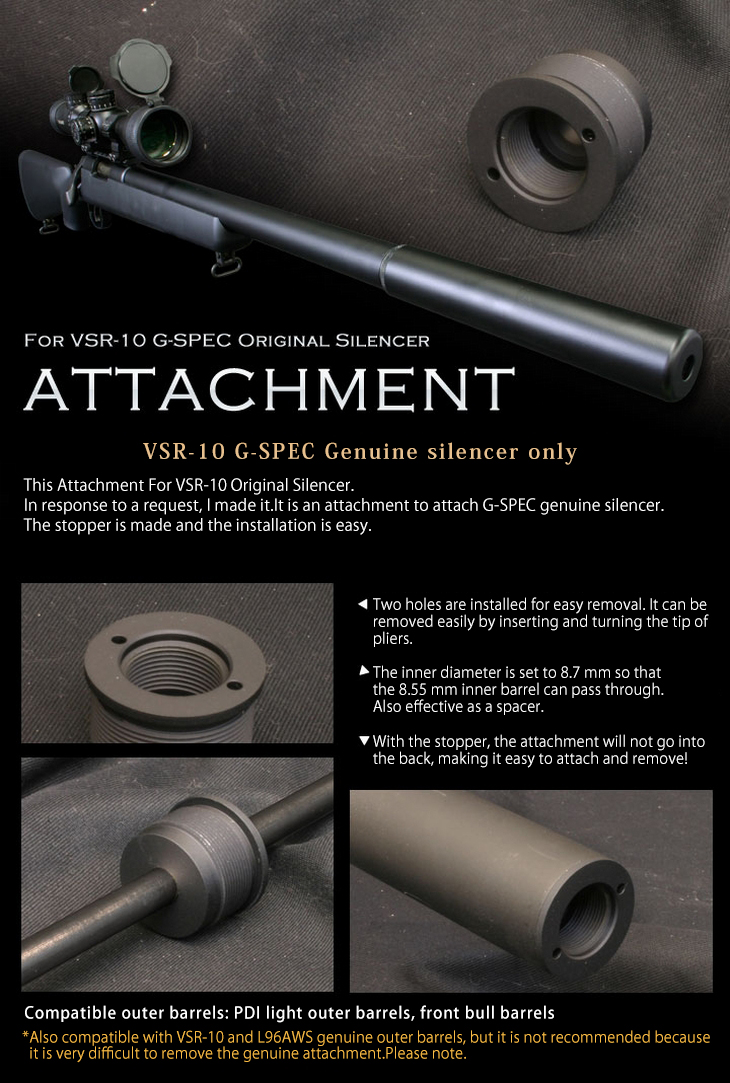 《product description》
This Attachment For VSR-10 Original Silencer.In response to a request, I made it.It is an attachment to attach G-SPEC genuine silencer.
The stopper is made and the installation is easy.Two holes are installed for easy removal. It can be removed easily by inserting and turning the tip of pliers.
The inner diameter is set to 8.7 mm so that the 8.55 mm inner barrel can pass through. Also effective as a spacer.
With the stopper, the attachment will not go into the back, making it easy to attach and remove!
Compatible outer barrels: PDI light outer barrels, front bull barrels.
※Also compatible with VSR-10 and L96AWS genuine outer barrels, but it is not recommended because it is very difficult to remove the genuine attachment.Please note.
《SPEC》
■Usable gun:Tokyo Marui VSR-10 G-SPEC, Tokyo Marui L96AWS, PDI Light Outer Barrel, PDI Front Bull Barrel
■Material:Duralumin
■Surface treatment:Black Alumite