Tracer Attachment G / For XCORTECH X301 COMPACT
¥986
《SPEC》
■Usable gun:
【Tracer】
XCORTECH X301 COMPACT
【Outer Barrel】
Tokyo Marui VSR-10 G-SPEC,Tokyo Marui L96 AWS
PDI Front Bull Barrel series
PDI Light Outer Barrel series
■Material:Made of PLA plastic
■Surface treatment:Black oxide finish
1 in stock
Description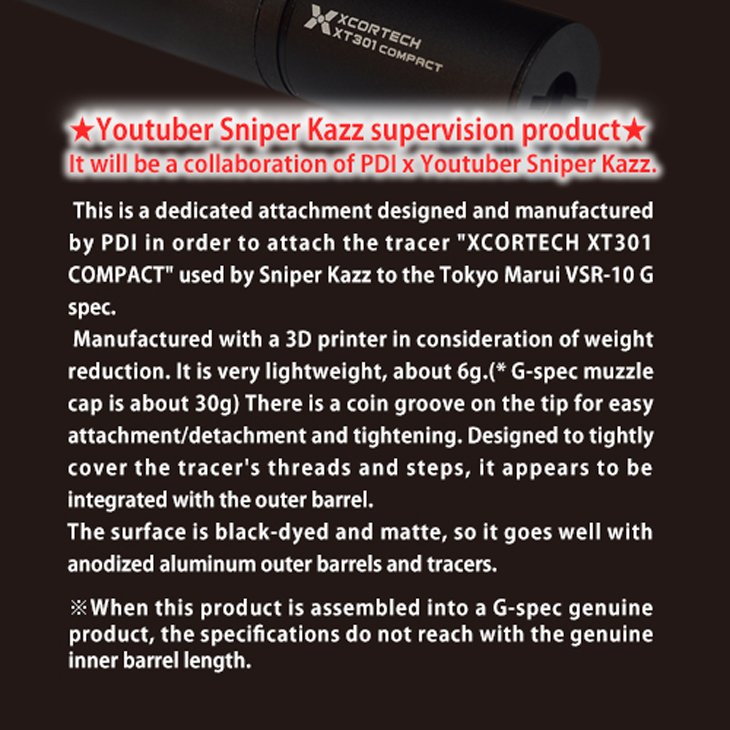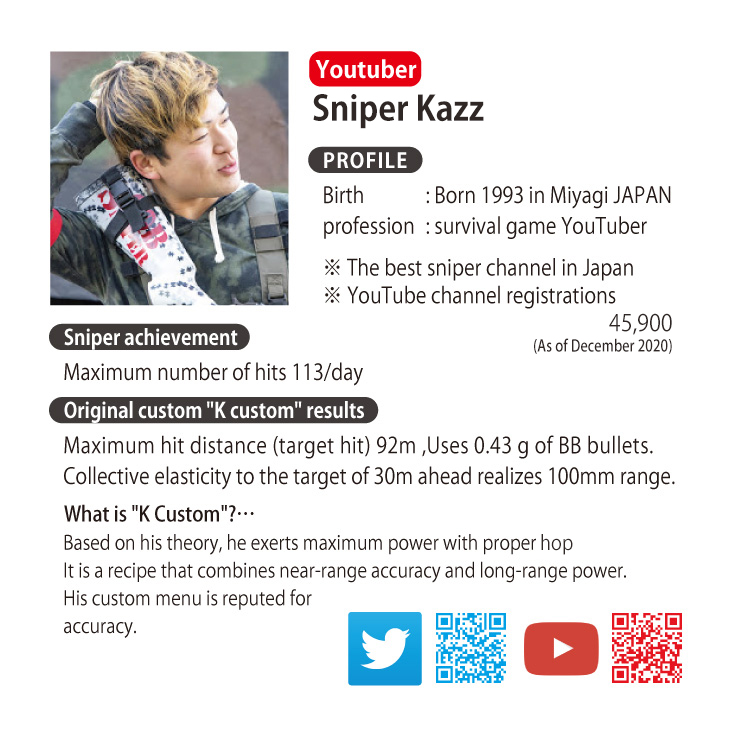 《product description》
It will be a collaboration of PDI x Youtuber Sniper Kazz.
This is a dedicated attachment designed and manufactured by PDI in order to attach the tracer "XCORTECH XT301 COMPACT" used by Sniper Kazz to the Tokyo Marui VSR-10 G spec.
Manufactured with a 3D printer in consideration of weight reduction. It is very lightweight, about 6g.(* G-spec muzzle cap is about 30g)
There is a coin groove on the tip for easy attachment/detachment and tightening.
Designed to tightly cover the tracer's threads and steps, it appears to be integrated with the outer barrel.
The surface is black-dyed and matte, so it goes well with anodized aluminum outer barrels and tracers.
※When this product is assembled into a G-spec genuine product, the specifications do not reach with the genuine inner barrel length.
《SPEC》
■Usable gun:
【Tracer】
XCORTECH X301 COMPACT
【Outer Barrel】
Tokyo Marui VSR-10 G-SPEC,Tokyo Marui L96 AWS
PDI Front Bull Barrel series
PDI Light Outer Barrel series
■Material:Made of PLA plastic
■Surface treatment:Black oxide finish