Particulars that shall be transcribed according to the specified commercial transaction law.
Institutional name of the seller
PDI Co.,Ltd X-FIRE Sales Div.
Name of the person in charge
Keiko Kobayashi
Location
334-6 Nakakuro Iwade City Wakayama Pref. Japan 649-6248
Fax number
(+81)736 61 6323
E-mail address
info@x-fire.org
Charges other than that for the product
Shipping and transaction fees *Depending on the order amount insurance fee might also apply
Period for which order is valid
1 week
Sales volume
It depends on the contents of the order
Period of delivery
This also depends on volume of the order
Payment methods
Paypal Only.
Return policy
We do not accept any returned products that have been used or damaged due to the customer's fault
Product exchange
We will replace any defective products with a new one free of charge
Period of returning of defective products
Please return any defective products within 2 weeks
About Paypal's fee
When using Paypal, we charge a 4% from the total of the item price, shipping cost, and damage compensation insurance fee as handling charge.
EMS compensation
In case of damages to products or missing contents, EMS will compensate for damages up to 2 million yen maximum. For product value of less than 20,000 yen it is free of charge, however you will need to pay extra fees to insure products with value totaling more than 20,000 yen. Additional fee is 50 yen extra per 20,000 yen.
Agreement
It is deemed to have agreed with us and the agreement will become effective in case of your actual use being confirmed by us.
About "INVOICE"
Contents of the package is described as "Sports Goods".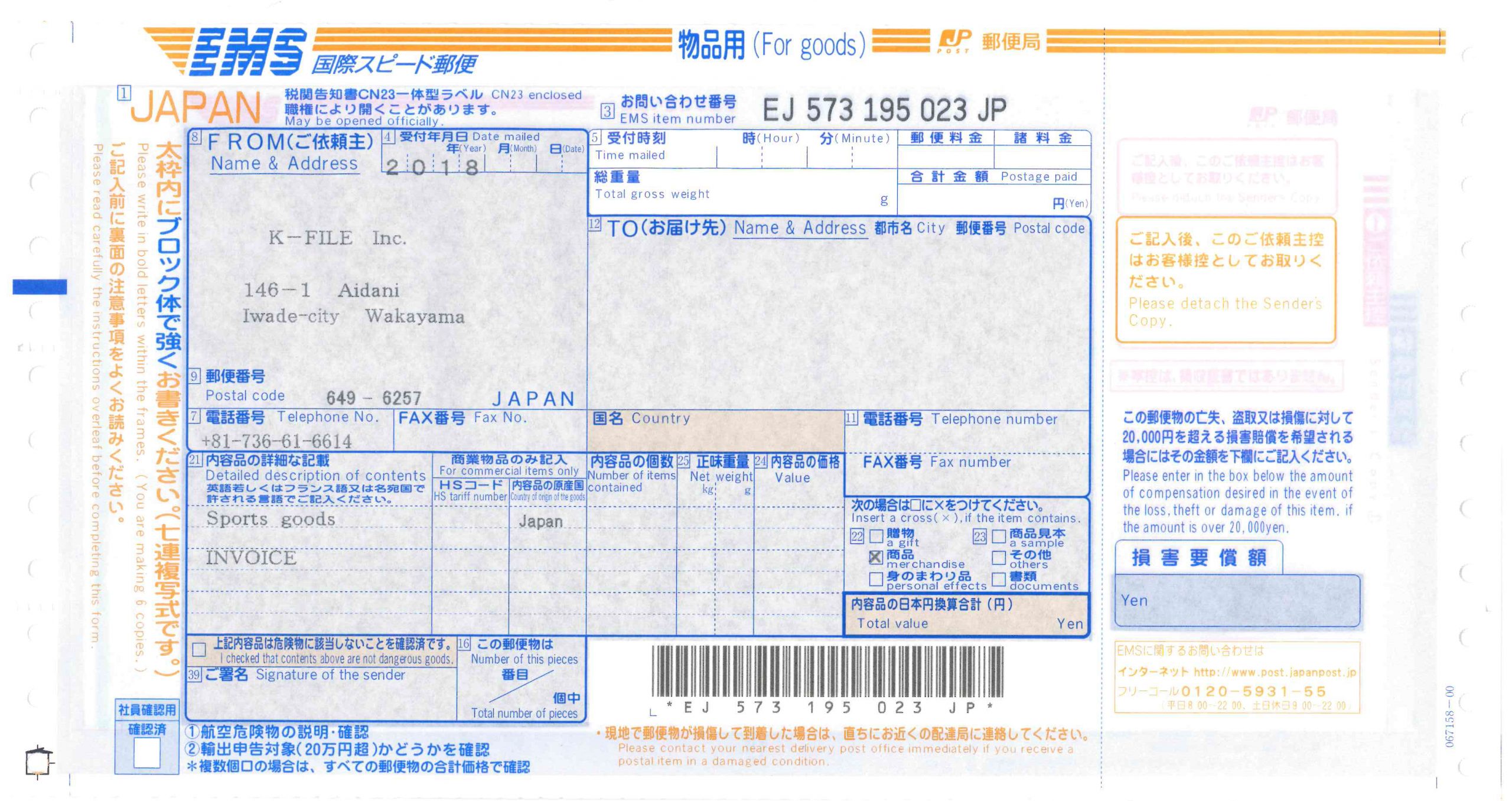 X-FIRE is run by all Japanese staff
We will do our best to provide good service for every user. But please understand that we're not native English speaker. Also consider the time zones, we will reply your order ASAP. Please take note of the above.
Policy for protecting your privacy
Private information of our customers ( name, email address, address,phone number, order record ) shall not be transfered to outsiders except for legitimate reason.
Conditions of selling
We have many goods for Airsoft.Those contents are for international customer only. If you are Japanese domestic customer,we can't ship to you. Please access our Japanese shopping cart.
About product exchange
If you want to exchange product because of an order mistakenly placed, sorry to inform you that we can't not do so, so please confirm the contents properly before placing the order.
Before doing upgrade, you must check a few things
After you get our goods, please check all items are accounted for. We will reply & send the rest if you don't get all items within 1 week
About local law
We ship PDI & other products to around the world, please email us if you have any questions. But we can not say for certain your local laws, so please confirm them yourselve. Especially whether your customs will allow your package to be imported in. We cannot be held responsible for any problems that occur in your country.
About EMS
We use mainly EMS, if you want other methods such as Fedex or UPS, it's OK but we require your account. For the below address, we can't use EMS directly. So we need to use normal postal.

APO(Army Post Office)
96309 / 96379 / 96323 / 96326 / 96328 / 96330 / 96336 / 96337 / 96338 / 96339 / 96343 / 96365 / 96367 / 96368

FPO(Fleet Post Office)
96306 / 96310 / 96311 / 96313 / 96321 / 96322 / 96347 / 96348 / 96349 / 96350 / 96351 / 96362 / 96370 / 96372 / 96372 / 96373 / 96375 / 96377 / 96378 / 96379 / 96384 / 96386 / 96387 / 96388 / 96601 / 96602 / 96603 / 96604 / 96606 / 96607 / 96609 / 96610 / 96628 / 96634 / 96643 / 96662 / 96665 / 96666 / 96669 / 96671 / 96672 / 96675 / 96678 / 96679 / 96683
Contact us within 7 days after getting products if there is a problem
When you receive the package, please open it asap and confirm whether there is any problems or not because our guarantee period is 7days after parcel is delivered.
We decide whether it is defective or not
If you feel something is wrong with your products, please mail to us with photo. We will confirm and replace it if it is defective. But this decision is not up to you and we do not accept any claims.
The goods are upgrades for your airsoft rifle
Our products are just upgrades. So we don't recommend it to anyone without any experience
All springs may give a fatal damage to your gun.
When using high power springs it may cause damage to your gun as the parts are not meant to take the stress of springs with high tension. We cannot be held responsible if any damages occur when using them.
When filling in form
Please enter your shipping details, name, and phone number here when placing your order. Please note that we will not cross reference those with your paypal account.
About customs
Our invoice price is the final price. We can't write a fake price. Also we do not pay for the customs fee, please pay them yourself.
Our exchange policy
We will exchange products that are defective. However scratches and deformation etc that results from installation are not covered and we will not exchange them.
About PDI products surface
PDI use ALUMINUM ALLOY & ANNODIZED so it's possible for pinhole to occur on the surface. Please do understand that this does not have any effect on performance and we do not treat it as a defective product and we do not accept any exchange request.
We don't follow the original size
Sizes are PDI original so it will be different from the original. If you claim that it is a different size, it is not a problem for us. For example, someone claimed that the L96 reciever was not same dimension as the original one resulting in faulty operation. In this case, the problem that high powered spring was used. PDI don't recommend any high powered springs over 1J. Some problems may occur due to that so please do so at your own risk.