Duralumin Chamber Block / For Tokyo Marui VSR-10,PDI COMPLETE UPPER KIT
¥4,250
《SPEC》
■Usable gun:Tokyo Marui VSR-10 series,PDI COMPLETE UPPER KIT
■Material:Duralumin
■Surface treatment:Black Alumite
1 in stock
Description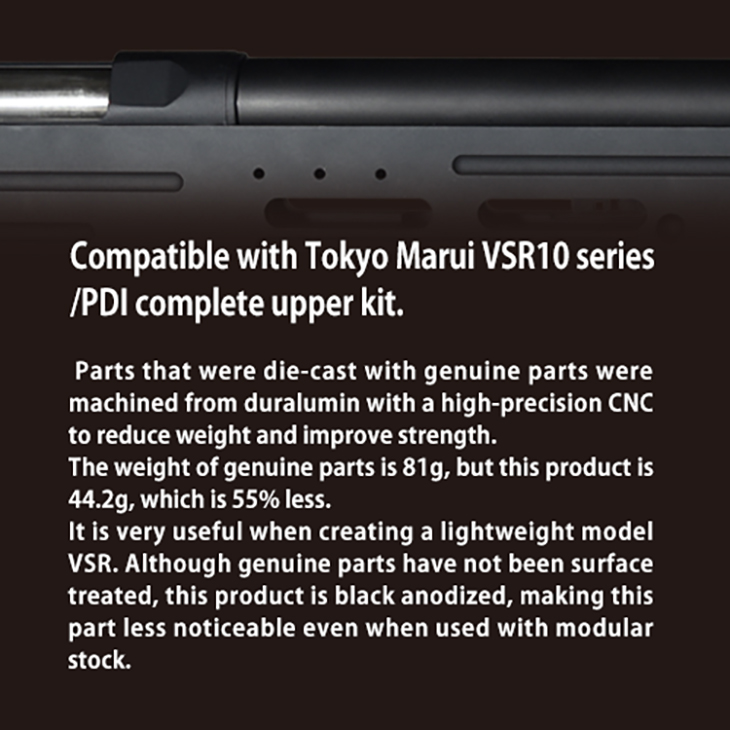 《product description》
Compatible with Tokyo Marui VSR10 series / PDI complete upper kit.
Parts that were die-cast with genuine parts were machined from duralumin with a high-precision CNC to reduce weight and improve strength.
The weight of genuine parts is 81g, but this product is 44.2g, which is 55% less.
It is very useful when creating a lightweight model VSR. Although genuine parts have not been surface treated, this product is black anodized, making this part less noticeable even when used with modular stock.
《SPEC》
■Usable gun:Tokyo Marui VSR-10 series,PDI COMPLETE UPPER KIT
■Material:Duralumin
■Surface treatment:Black Alumite